Infinity QE Speaker System, Only $159 pr.

This was one of my favorite 8" 2-way speakers back in the mid to late 70's. The Infinity QE features high quality 8" woofer with butyl rubber surround (no foam rot) coupled to the famous Infinity EMIT tweeter made a killer compact speaker system. This is an acoustic suspension (sealed cabinet) system so the bass is nice and tight with no boom. The EMIT tweeter will bring out treble you never heard before. The woodgrain vinyl cabinets with sheer knit grills offer a nice clean look. Infinity knew how to make some impressive sounding speakers during this period and this is definately one of them.
There is a web page just about these speakers located here: http://www.bobbyshred.com/infinity/Qe.html
Introduced: 1978
Dimensions: 46 x 31 x 25 cm
Bass: 1 x 20 cm
Highs: 1 x EMIT
Suggested for amplifiers with: 10-100 Watts per channel
Frequency range: 47 Hz - 32 kHz
Crossover frequency: 2500 Hz
Suggested price (pair): $254
Overall nice condition. Just a few signs of wear on the cabinet edges and grill corners Cabinets are thick and sealed. All original Infinity drivers work fine. It's sad, but the consumer speakers offered today just don't come close to a speaker like this. Go look what $159 will buy you then come back here and snatch these bargains up!
Only $159 plus shipping (20lbs net each, 46 lbs gross pr.)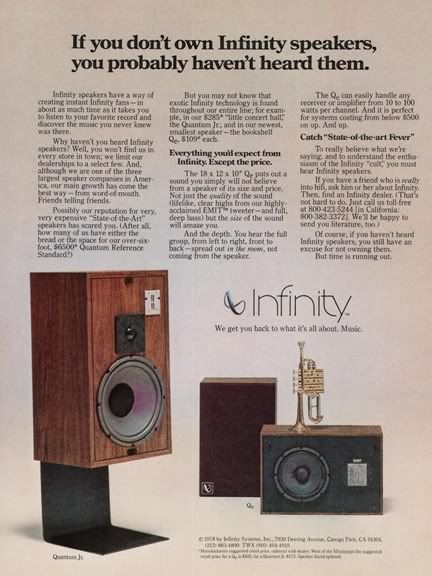 Click here to see all my used audio audio.net

Want to buy this item? Email me by clicking here.