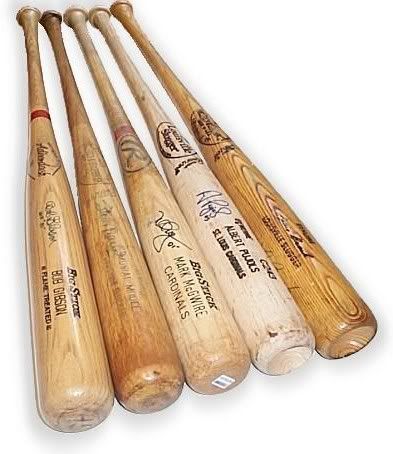 Birdbats blog...
December 9, 2016. Once upon a time, the Cardinals stole a fleet-footed, leadoff-hitting outfielder from the Cubs. He had worn #24, but that wasn't available with his new team, so he accepted #20. It happened again today, except #20 wasn't available, either. So, Dexter Fowler will be wearing #25, a nod to his mentor, Barry Bonds... It's interesting how Mark McGwire's old number has trickled back into circulation. It sat idle for eight seasons until Mac rejoined the Cards as a coach. Upon his departure, it was mothballed for two more seasons before being assigned to coach David Bell. Now, 16 years after Big Mac's retirement, #25 is back in the on-field rotation of numbers.
November 28, 2016. No, I didn't get kidnapped or fall into a coma. I'm still here. Toward the end of the season, though, I was so buried with work that I didn't update the site. The Cubs winning the Series didn't exactly provide motivation, either. So, here it is,almost December, and I'm finally updating uniform numbers and bat use (I did take a few notes along the way). Sorry about that... In spite of what the description and the PSA/DNA letter says, this Edmonds bat was not prepped by Edmonds; that's not his tape job.
August 27, 2016. In honor of Cardinals HOF inductee Sam Breadon, the team turned back the clock to 1926 for tonight's game. However, because the '26 uniforms were so plain, they decided instead to go with the 1927 home uniform that featured the World Champions logo on the chest. Not a bad effort overall. The uni numbers on the backs are a concession to the modern game, but at least they didn't use names -- and even the MLB logo is missing from the collar. The letters on the front appear to have been embroidered like the originals, but the bird itself looks to be a patch. Likewise, the old English STL on the sleeve also was sewn on, not embroidered. All things considered, one of the better throwback uniforms the Cards have worn.
August 13, 2016. Luke Weaver made his MLB debut wearing #62.
August 9, 2016. Highly touted prospect Alex Reyes made his debut wearing #61.
August 2, 2016. Newly acquired reliever Zach Duke made his Cardinals debut wearing #29. He's the first Redbird to don those digits since Chris Carpenter's retirement.
July 30, 2016. Jerome Williams made his Cardinals debut wearing #38 and a pink glove. Here's the story behind that.
July 24, 2016. Mike Mayers made his MLB debut wearing the #59 made available by Eric Fryer's release earlier this season.